Volunteers...they provide a valuable service that shouldn't be underestimated.

Some benefits you can expect from choosing to donate your time to help others:
Having fun:
Get involved in a project that you thoroughly enjoy. Something you believe in and is a worth while cause

Learning and Teaching:
As a volunteer you can share your knowledge and gain some wisdom from others. You can gain new skills and even learn about a new field or profession

Enjoy Health and Fitness benefits:
Staying active is a opportunity you have when volunteering

Make Friends and Network:
Volunteers can find others who share their passions

Recognition and Acknowledgment:
Getting involved allows others to realize the importance of your service and recognizes your accomplishments

Making a Difference:
When volunteering you can develop a sense of giving and belonging

Achieving a sense of Accomplishments:
Volunteers should see that their efforts and time has helped the community or specific cause. Their efforts does amount to something and inspires confidence and pride.

Experiencing Different points of view:
Volunteers have the opportunity to get involved with different generations, cultures and abilities.

Enriching family life:
Being a volunteer can be an activity the whole family can share. Volunteerism is a great way to teach children valuable life lessons. Sharing, giving, helping others,

Why not devote some time to a worthwhile cause, a community project or service? The benefits are endless...

Have you offered your time as a volunteer? If so, what benefits did you personally acquire?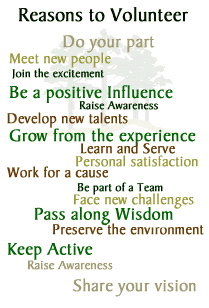 Source: Parks & Recreation